Cleary and New Orchard Planning Study
- online questionnaire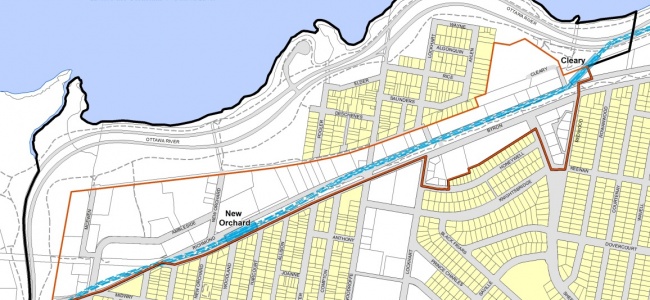 On

Saturday, June 4

, 2016 the City hosted a
public consultation event held to introduce
the Cleary and New Orchard Planning Study
as well as several other projects happening
in the area. The day-long event was held at
Our Lady of Fatima Parish and attended by
over 200 people.
This study is a review of the lands in the
vicinity of the future Cleary and New Orchard
LRT stations to determine appropriate
redevelopment in the context of surrounding
mature neighbourhoods.
A report of the feedback, called an As We
Heard It report, will be posted in July with
the comments received before

July 15

from
the event and from our online questionnaire.
Elgin Street and Hawthorne Avenue
Functional Design Study
The City of Ottawa is undertaking a


functional design and transportation study
for the continuous corridor of Elgin Street
between Laurier Avenue and Queen
Elizabeth Driveway, and Hawthorne
Avenue from the Pretoria Bridge to Main
Street.

Please take two or three minutes to answer
our questions about the Elgin Street or


Hawthorne Avenue Functional Design Study.
Your responses will be confidential and will
be provided to the project team for review
and consideration in the final design concepts.
lease complete the survey by

July 15

, 2016.


Have your say on the Coach House zoning study

The City is undertaking a zoning study that will determine the appropriate zones and standards to permit secondary dwelling units within accessory structures, in residential neighbourhoods. These types of dwelling units are essentially a small apartment or suite in the backyard of a home or along a laneway.

The City has reviewed and considered all the feedback received during and following the two public consultation outreach sessions:

September 14

, 2015 to

November 6

, 2015 and

February 1

, 2016 to

February 29

, 2016 and is proposing amendments to the Zoning By-law and Official Plan to permit coach houses.

Send your comments to

tim.moerman@ottawa.ca

for consideration in the Staff Report to Planning Committee and Council by e-mail before

July 22

, 2016.
The City of Ottawa is developing a site alteration by-law to regulate activities such as the clearing and grading of land, including the removal of topsoil and the dumping of fill. Staff have produced a Discussion Paper to:

Present some basic background information on site alteration and site alteration by-laws in Ontario, and the current situation in Ottawa.
Explain the guiding principles under which Ottawa's site alteration by-law is being developed
Consider the circumstances under which site alteration may or may not be appropriate; and,
Identify some potential minimum standards / best practices for site alteration.

After reading this paper, we hope that interested stakeholders and members of the public will join the discussion and help define appropriate parameters for site alteration activities in Ottawa. Please provide your feedback by

August 5

for consideration during the development of the draft by-law. For more information on the project, check out the City's web page at ottawa.ca/sitealteration.
Cycling advocate and ecological group win 2015 Bruce Timmermans Awards
Bruce Timmermans was a long-time cycling educator and advocate. Since 1999, this City of Ottawa award has built on Bruce's legacy by recognizing and celebrating individuals and organizations that share his commitment to cycling.

On

July 6

, two winners received praise at Transportation Committee for their outstanding commitment to Ottawa's cycling community.
Recognized with the individual award, Paul Clarke leads the Advocacy Working Group of Citizens for Safe Cycling in Ottawa and plays a co-ordinating role between cyclists, City and NCC staff, and the private sector. With that group, Paul has provided valuable insight to the City and developers on more than 30 projects, including street designs for O'Connor Street, Main Street, Churchill Avenue and Laurier Avenue. He has also consulted on the O-Train pathway, construction of light rail transit, the Trillium Line extension, and the widening of the Airport Parkway. By working with City Council and City staff, Paul continues to illustrate the effectiveness of being engaged, and of encouraging other cyclists to do the same.
EcoDistrict, recognized with the organizational award, is dedicated to reducing downtown Ottawa's overall ecological footprint. Their mission is to make the downtown core more sustainable, socially vibrant, and attractive to businesses. Since it was founded in 2012, EcoDistrict has striven to increase bike ridership through a variety of initiatives. They have worked with the City to establish bike rack locations and encouraged cyclists to track and report cycling issues along common downtown commuter routes.
The intersection between neuroscience and urban design
Have your say on the vision for the future of the Capital
Get involved at an upcoming event
More info:

Andrew McCreight, tel: 613-580-2424 ext. 22568
Email:

andrew.mccreight@ottawa.ca